Lagers, Sours, Ciders
---
Bitburger Pils
Bitburger Brauerei, Bitburg/Eifel, Germany
The classic Bitburger – a mature and most agreeable beer – is brewed with the best of ingredients in the same traditional way it has been for many, many years. The result is delicately tart and pleasantly bitter – with a strong hop taste.
ABV: 4.8% 12oz $5
To Go Growler 32oz $7 64oz $14
Upland Champagne Velvet Lager
Upland Brewing Co, Bloomington, IN
Champagne Velvet has a refreshingly light pilsener body with some sweet complexities given off by the corn malt used in this recipe, making this the perfect lager. It's smooth and light, but still full of flavor, the perfect everyday beer for craft beer drinkers and a step up for domestic drinkers.
ABV: 5.2% 12oz $5
To Go Growler 32oz $6 64oz $12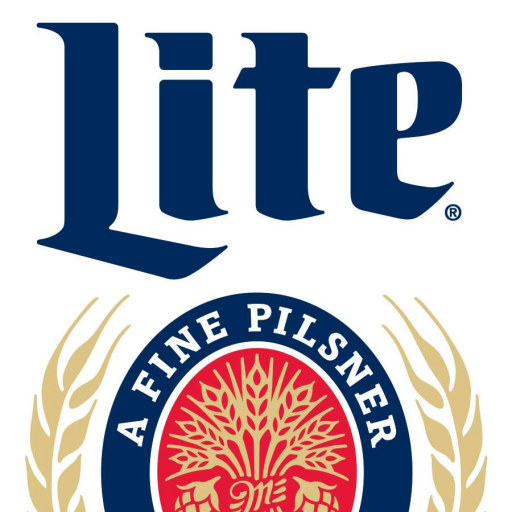 Miller Lite
Miller Brewing Co. Milwaukee Wisconsin
Miller Lite is the great tasting, less filling beer that created the American light beer category in 1975. Triple-hops brewed for great pilsner taste, Miller Lite is the only beer to win four gold awards in the World Beer Cup for best American-Style light lager (2006, 2002, 1998 and 1996). It also won the gold medal for best American-style Lager or Light Lager at the 2010 Great American Beer Festival.
ABV: 4.2% 12oz $4
To Go Growler 32oz $6 64 $12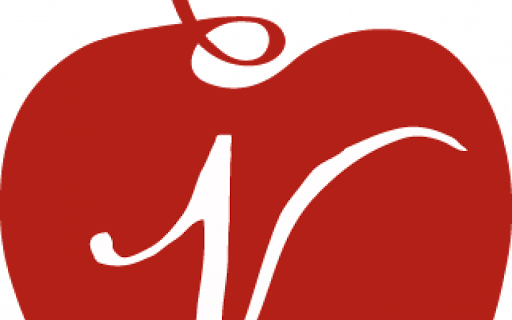 Virtue Brut Cider
Virtue Cider, Fennville, Michigan
The Michigan harvest of apples starts in late summer, with the sun still bright and the leaves green. As autumn turns cool, trees turn brilliant orange, yellow, and red; and so do the apples. We use all sorts of Michigan apples grown on local family farms. The blend of these heirloom apples creates a complexity of flavor impossible to achieve with just a few varieties.
TASTING NOTES:
Michigan Harvest is crisp and tart, starting with the scent of the orchard, a hint of oak, and finishing with a touch of sweetness.
FOOD PAIRING:
This cider celebrates apple harvest as well as the autumn's hearty cuisine. Try pairing with roast pig, aged cheddar, or traditional Thanksgiving fare.
Gregory Hall founded Virtue Cider in 2011. He is known for his 20-year tenure as brewmaster at the Goose Island Beer Company, having won 14 consecutive Great American Beer Festival medals and pioneered bourbon barrel-aged beer with Bourbon County Stout. In the spring of 2011, Hall left Goose Island and embarked on a two-month pilgrimage to study the craft of cider, touring and tasting at top cidermakers in England and France. He brought his extensive experience and innovative style to launch Virtue Cider first in the Roscoe Village neighborhood in Chicago. In 2013, Hall brought the cidermaking venture as close as possible to one of the United States' best apple-growing states of Michigan and launched Virtue Cider in Fennville, Michigan.
ABV: 5% 12oz $5
To Go Growlers 32oz $6.75 64oz $13.5
Duchesse de Bourgogne Flanders Red Sour
Verhaeghe Brewery Sint-Dierikserf, Belgium
This is a delicious sour. Duchesse de Bourgogne is the traditional top fermented reddish-brown ale from the West-Flanders region of Belgium.
A traditional Flemish red ale matured in oak casks; smooth with a rich texture and interplay of passion fruit, and chocolate, and a long, dry and acidic finish. After the first and secondary fermentation, the beer goes for maturation into the oak barrels for 18 months. The final product is a blend of younger 8 months old beer with 18 months old beer. This refined ale also known as "The Burgundies of Belgium" 100% natural and unpasteurized
ABV: 6.2% 10oz $12
To Go Growler N/A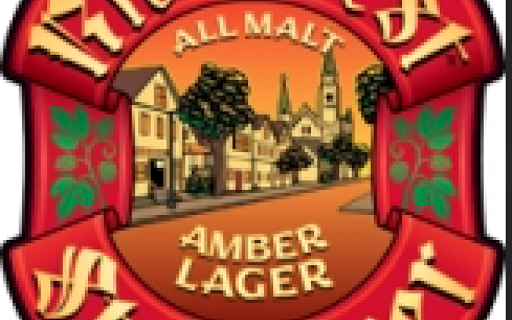 Lakefront Riverwest Stein Amber Lager
Riverwest Stein Beer | Lakefront Brewery, Inc. Milwaukee Wisconsin
Our flagship beer, named after the hardworking neighborhood in which Lakefront Brewery was founded. Pours a brilliant amber with a bubbly off-white head. Aromas of American hops mingle with a slight floral character from the German lager yeast. A balanced maltiness with just a hint of sweetness dominates the flavor, with a crisp hop bite in the finish. A joy to drink; no wonder it's Milwaukee's favorite craft beer.
ABV: 4.8% 12oz $6
To Go Growler N/A
Local Option Outlawger
Local Option Brewery, Chicago Illinois
Outlawger is designed to deliver fresh German lager to American soil. What's the secret you ask? It begins by getting a famous German brewmaster wasted on American double IPA's at Local Option, and then fooling him into revealing the most classified methods of making perfect Deutsch Pils. Consider this beer another victory for the Allies.
ABV: 5% 12oz $5.5
To Go Growler: 64oz $16 32oz $8
WarPigs High Celebrant Dopplebock
WarPigs High Celebrant
Doppelbock · 8.75% ABV · ~260 calories
WarPigs Brewing USA · St. Paul, MN
The storm before the calm. New Seasonal dopplebock
ABV: 8.75% 12oz $6.5
To Go Growler 64oz $18 32oz $9
Ayinger Altbairisch Dunkel
Ayinger Altbairisch Dunkel
Dunkel · 5.0% · Aying, Germany
Impenetrably dark with a golden-brown gleam when held up to the light, and with a warm aroma and malty taste, while summoning up coffee taste sensations on going down.
ABV: 5% 12oz $7
To Go Growler: 64oz $18 32oz $9
Veltins Grevensteiner Original
Veltins Grevensteiner Original
Kellerbier · 5.2% ABV · ~160 calories
Brauerei Veltins · Meschede, Nordrhein-Westfalen Germany
Back to the roots: The brewery C. & A. Veltins revives its venerable knowledge in the craft of beer brewing with its new beer brand Grevensteiner Original – Inspired by the traditional brewing of the twins Carl and Anton Veltins during the beginning of the last century. The beer shines palely amber coloured with orange reflections from inside the mug with the family brewerys' more than 100 year old lettering style as an ornament. The brewery C. & A. Veltins has been associated with the historical and bulbous Steinie bottle for decades. That is why the traditional Steinie bottle, the historically appearing label, as well as the sealing on the crown cork brings the history and long tradition to life in a modern product.
This unfiltered country beer is brown with ruby highlights, slightly hazy with a brilliant white head. The body is rich and malty with a clean crisp slightly hoppy finish. Grevensteiner uses whole leaf hops and traditional ancient malts to recreate the true original beer of the brewery.
ABV: 5.2% 12oz $7.5
To Go Growler: 64oz $20 32oz $10
Wheat, Fruit, Spiced
---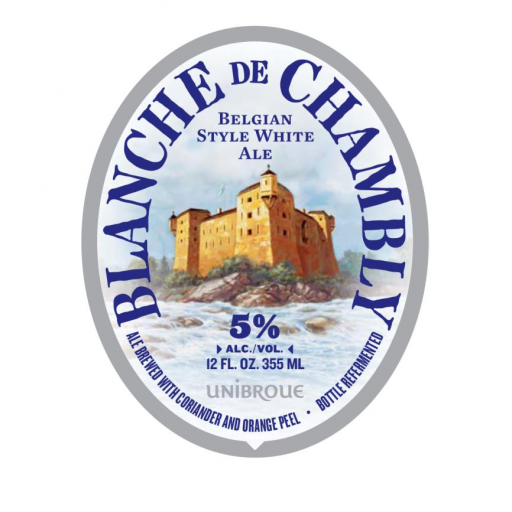 Unibroue Blanche De Chambly Witbier
Unibroue, Quebec Canada
(White of Chambly) was the first bottle refermented ale produced by Unibroue. It is brewed from a blend of pale barley malt, wheat malt and unmalted wheat, to which we blend selected spices and hops. Blanche de Chambly is only partially filtered, retaining its natural cloud of yeast that is characteristic of the original white ales brewed during the Middle Ages.
With notes of dried orange peel and coriander seeds, this brew is a worthy representative of classic Belgian-style white wheat beers. To date, it has won more than 34 international medals, including being named "The World's Best White Beer" on numerous occasions. Unibroue is proud to brew the most popular white beer in Quebec.
ABV: 5% 16oz $7
To Go Growler 32oz $8 64oz $15
Hacker-Pschorr Hefeweisen
Wonderfully refreshing fruity & citrus notes accompanied by a fine, tangy acidity.
Our unfiltered Hacker-Pschorr Weissbier is naturally cloudy, full-flavoured and uniquely refreshing. Georg Pschorr – in his day owner of the Pschorr brewery and a man of true foresight – spread word of this exquisite and enjoyable Hefe-Weissbier and made it popular beyond the borders of Bavaria.
ABV: 5.5% .5L $7.50
To Go Growler: 32oz $9 64oz $18
Dupont Avec les Bons Voeux
Dupont Avec les Bons Voeux
Saison · 9.5% ABV · ~160 calories
Brasserie Dupont · Tourpes, Belgium
"Les Bons Voeux" means "best wishes," which is what Brasserie Dupont sends with this very special saison ale traditionally brewed only for the holidays. It is now brewed for year-round enjoyment. Redolently aromatic, rich and velvety, this copper-blond ale contains fine hop aromas and is sweet and fruity with a delightful bitter finish.
ABV: 9.5 10oz $14
To Go Growler: 64oz $64 32oz $32
WarPigs Forbidden Magic Strawberry Hefeweizen
WarPigs Forbidden Magic
German Hefeweizen · 6.0% · St. Paul, MN
Strawberry Hefeweizen
ABV: 6% 12oz $6.5
To Go Growler: 64oz $18 32oz $9
Petrus Saison De Pale
Petrus Saison De Pale
Farmhouse Ale · 5.8% ABV
Brouwerij De Brabandere · Bavikhove, Belgium
A collaboration between Dogfish Head and Browerij De Brabandere – brewers of Petrus Sour Beers – our Brewing Ambassador Bryan Selders traveled all the way to Belgium to brew Saison de Pale for Philly Loves Beer's annual Philly Beer Week!
Saison de Pale is a Belgian Ale brewed with Pilsner, wheat and rye malts, and is balanced with Saaz hops. The Saison yeast gives forth peppery, herbal and bready aromas which carry through to the flavor. The Saison alone is soft and finishes dry and refreshing. 15% Petrus Aged Pale is blended in bringing a nice tension to the beer, making it gently tart and extra quenching. The beer remains unfiltered, which provides a medium body and smooth mouthfeel to the drinking experience.
ABV: 5.8% 10oz $14
To Go Growler: 64oz $44 32oz $22
Hoppy Ales
---
Maplewood The Charlatan Pale Ale
32oz Growler - $7.25
64oz Growler - $14.50
Maplewood Brewery & Distillery Chicago, Illinois
ABV: 6.1% 16oz $7.5
To Go Growler 64oz $14.50 32oz $7.25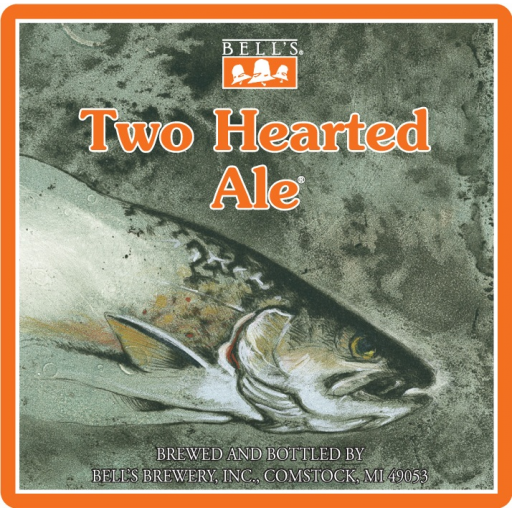 Bell's Two Hearted IPA
Bell's Brewing Inc., Comstock, Michigan
This is the bench mark for an American I.P.A. Bell's Two Hearted Ale is defined by its intense hop aroma and malt balance. Hopped exclusively with the Centennial hop varietal from the Pacific Northwest, massive additions in the kettle and again in the fermenter lend their characteristic grapefruit and pine resin aromas. A significant malt body balances this hop presence; together with the signature fruity aromas of Bell's house yeast, this leads to a remarkably drinkable American-style India Pale Ale.
ABV: 7% 12oz $5.75
To Go Growler 32oz $8 64oz $16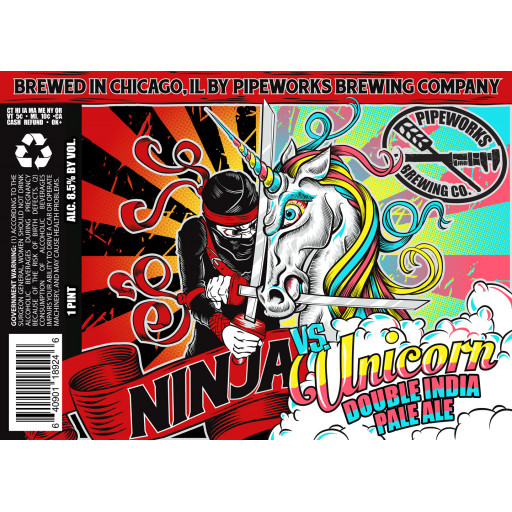 Pipeworks Ninja Vs. Unicorn IIPA
Pipeworks Brewing Company, Chicago, IL
Ninja vs. Unicorn celebrates the epic battle between two of the biggest hop-heads of lore. Brewed with over five pounds of hops per barrel, this unfiltered double IPA is sure to please the most discerning hop lover. Whether you're rooting for the mythical horned horse or the deadly assassin of the east, we hope you'll enjoy Ninja vs. Unicorn.
ABV: 8.5% 12oz $7.5
To Go Growler: 32oz $10 64oz $20
BrewDog Elvis Juice IPA
BrewDog Brewery, Ellon, Scotland, United Kingdom
An American IPA with a bitter edge that will push your citrus tolerance to the brink and back; Elvis Juice is loaded with tart pithy grapefruit peel. This IPA has a caramel malt base, supporting a full frontal citrus overload - grapefruit peel piled on top of intense us aroma hops. Waves of crashing pine, orange and grapefruit round out this citrus infused IPA.
ABV: 6.5% 12oz $5.5
Kwak Belgian Strong Pale Ale
Bosteels Pauwel Kwak
Belgian Strong Ale · 8.4% ABV · ~270 calories
Brouwerij Bosteels · Buggenhout, Belgium
Discover a very mellow, fruity attack, nougat-like solidity & slightly spicy character w/ hints of licorice passing a warm finish that reminds you of banana Kwak is recognizable by its deep bright amber color and a dense, creamy colored head. The pale wood of the glass holder makes a pleasant contrast with the beer. You will smell a mellow, fruity and malty aroma with a slightly spicy character (coriander, hops). Additional earthy and very subtle aromas of banana and perhaps also a whiff of pineapple or mango in the background. The bitterness always remains in the background but in the end emerges delicately.
ABV: 8.4% 10oz $12
To Go Growler 32oz $30 64oz $60
Surly Furious IPA
Surly Furious
IPA · 6.2% · Minneapolis, MN
Surly Brewing Co.
An amber-colored India Pale Ale with citrusy hoppy aromas and flavors, balanced out by a chewy caramel malt backbone (sweetness), with a refreshing bitter finish
ABV: 6.7% 12oz $5.5
To Go Growler: 64oz $16 32oz $8
Duvel on Tap!
Duvel
Belgian Strong Ale · 8.5% ABV · ~270 calories
Brouwerij Duvel Moortgat · Breendonk-Puurs
Duvel is a natural beer with a subtle bitterness, a refined flavour and a distinctive hop character. The unique brewing process, which takes about 90 days, guarantees a pure character, delicate effervescence and a pleasant sweet taste of alcohol.
ABV: 8.5% 10oz $12
To Go Growler: N/A
St. Bernardus Extra #4 Single
Extra 4 is a classic Belgian "Single" style, light golden in color, full of flavor and character and brewed with more hops and bitterness.
ABV: 4.8% 10oz $12
Growler: N/A
Dark / Strong Ales
---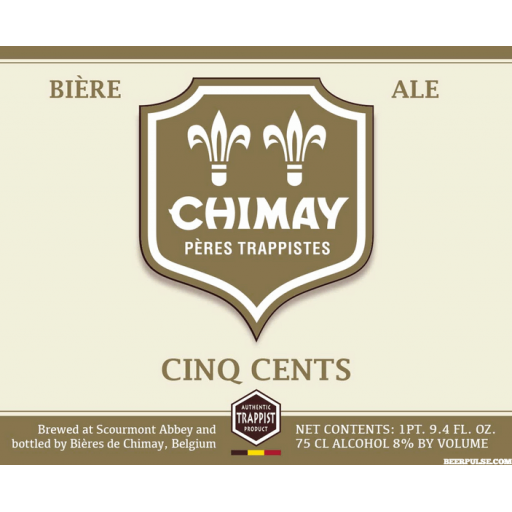 Chimay Cinq Cents Tripel
Bières de Chimay, Baileux Belgium
With its typical golden colour, its slightly hazy appearance and its fine head is especially characterised by its aroma which results from an agreeable combination of fresh hops and yeast. The beer's flavour, as sensed in the mouth, comes from the smell of hops: above all it is the fruity notes of muscat and raisins that give this beer a particularly attractive aroma. The aroma complements the touch of bitterness. There is no acidity, but an after-bitterness which melts in the mouth. This top fermented Trappist beer, refermented in the bottle, is not pasteurised.


ABV: 8% 10oz $13
To Go Growler N/A
Anchor Porter
Anchor Brewing Company, San Francisco, California
With deep black color, a thick, creamy head, rich chocolate, toffee and coffee flavors, and full-bodied smoothness, Anchor Porter is the epitome of a handcrafted dark beer.
A blend of specially roasted pale, caramel, chocolate, and black malts, along with our top-fermenting yeast, creates complexity without bitterness. The brew is hopped at a high rate, and naturally carbonated. The result is dark in the glass, but surprisingly light on the palate.
Anchor Porter became the first modern American porter style beer when it was introduced in 1972. Over 40 years later, our porter continues to reward those who look beyond its intimidating appearance to discover its smooth, full-bodied drinkability. Anchor Porter is the definitive American Porter.
ABV: 5.6% 12oz $6
To Go Growler: 64oz $14 32oz $7
Chimay Grand Reserve Dark Strong Ale
Bieres de Chimay, Baileux Belgium
Its flavour noticed when tasting it, only accentuates the pleasant sensations perceived in the aroma, while revealing a light but pleasant touch of roasted malt. This is a beer whose fragrance of fresh yeast with a light, flowery rosy touch is especially pleasant. This top fermented Trappist beer, refermented in the bottle, is not pasteurised.
ABV: 9% 10oz $14
To Go Growler: N/A
Chimay Première Dubbel
Bières de Chimay, Baileux Belgium
Chimay Première was the first ale to be sold by the Trappist monks in 1862, hence the name. The monks did not want sell a beer that would compete directly with the lighter style beers in the region and harm the local economy for which they worked to reinvigorate. These local beers were known as "household beer." So, the first brand they brought to market was the Chimay Red in 750ml bottles. It became famous for its dark copper color, rich creamy foam and nutritious quality. The beer gives forth distinct apricot aromas and has a pleasantly light and silky mouthfeel which finishes with a touch of bitterness.
ABV: 7% 10oz $14
To Go Growler 32oz $32 64oz $64
Begyle Neighborly Nitro Stout
Begyle Neighborly Stout Nitro
Dry Stout · 6.0% ABV · ~210 calories
Begyle Brewing Company · Chicago, IL
This Beer is with coffee,chocolate and caramel.
ABV: 6% 12oz $5
To Go Growler: N/A
On Tour Barton Hall Scotch Ale
On Tour Barton Hall Scotch Ale
Scotch Ale · 7.5% ABV
On Tour Brewing Company · Chicago, IL
Rich sweet malt with a toffee and caramel backbone.


ABV: 7.5% 10oz $9
To Go Growler: 64oz $28 32oz $14
3 Floyds Pillar Of Beasts BBA Barely Wine
3 Floyds Pillar Of Beasts
Barley Wine · 13.7% · Munster, IN
We made a salted caramel barley wine, put it in bourbon barrels for 12 months, and added vanilla beans and cocoa nibs.
ABV: 13.7% 5oz $13.5
To Go Growler: 64oz $86 32oz $43
Revolution El Hefe Loco
5% 12oz $10